SmileFast Composite Veneers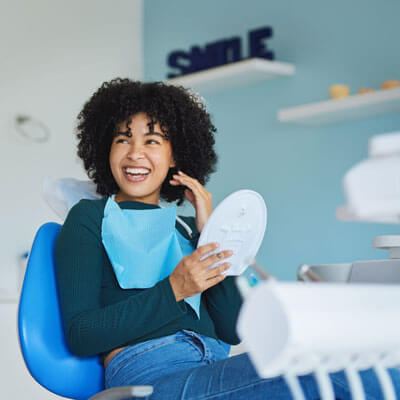 SmileFast is a recently developed way to provide composite veneers at a more affordable price. Because we can design your new smile digitally, we can produce predictable results. With a Smile Trial, you can test out your new smile and request any changes before anything is bonded.
SmileFast can be used to correct discoloration, reshape edges, restore chips and cracks, and even close gaps between teeth. Another benefit of SmileFast is that it can correct minor misalignment without the need for orthodontics. Teeth that may appear too short, which can occur naturally or due to wear and tear over time, can be lengthened.
What Are Composite Veneers?
One of the primary benefits of composite veneers is they are a less expensive, yet high quality alternative to porcelain veneers. They differ from porcelain veneers, as they are typically additive, meaning very little tooth structure needs to be changed when placed.
Because
Dr Dorothy (Dentist)
can place the veneers in our practice without the need for a lab they can be placed in only one relatively quick visit. Getting high-quality porcelain veneers usually takes more than one lengthy visit.
What to Expect
Your initial SmileFast consultation takes between 60-90 minutes. We'll chat with you about your goals, and what you're seeking to achieve with us. Dr Dorothy will then collect the records she needs to help plan treatment. These records include photographs, X-rays and 3D digital scans to plan your new smile. She'll also do a thorough examination of your current oral health. These records will be used to craft a For Life Smile treatment plan with you.
If you'd like to brighten your smile with teeth whitening, we'll use the scans from your first visit and provide you with whitening trays and 22% professional whitening gel.
Using your goal as a guide Dr Dorothy will design your new smile, and you'll have the opportunity to try it on at this appointment. We'll place your new smile over your natural teeth so you can see it in real life, before any permanent bonding is done. You'll have the opportunity to request any final changes to ensure you're delighted with your new smile.
At this visit, your dentist will deliver your smile in one short, painless appointment.
Frequently Asked Questions
How long do composite veneers last?
The lifespan of your composite veneers can vary, but they often last approximately 8-10 years before needing to be replaced. You will likely need touch-ups before this time. However, this time frame varies depending on your diet, oral hygiene habits, whether you get regular dental check-ups, and grinding habits.
Everyone grinds their teeth at least somewhat while they sleep, but if you're a heavy grinder, we recommend you wear a night guard. Doing so can prolong the life of your SmileFast veneers.
Can I have the veneers replaced if needed?
Yes, because they are additive, composite veneers can be easily removed and replaced without additional damage to the remaining tooth structure. In contrast, when replacing porcelain veneers, which wear in approximately twenty-plus years, there may be additional damage to the teeth.
Book a Consultation
Wondering if SmileFast veneers are right for you? Contact Smiles Are Us today to schedule a consultation!
CONTACT US »

SmileFast Composite Veneers Adelaide CBD | 08 8231 9297