EMS AIRFLOW at Smiles Are Us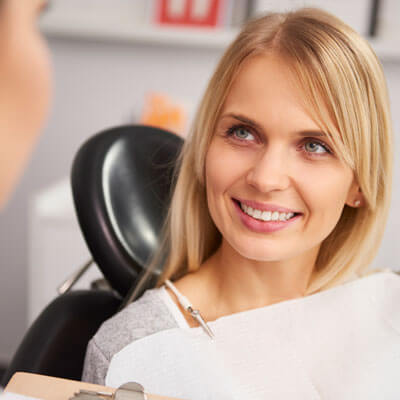 Do you dread dental checkups because you don't like the idea of getting your teeth scraped? We have good news: Smiles Are Us is now offering Guided Biofilm Therapy that uses state-of-the-art AIRFLOW to clean teeth comfortably!
AIRFLOW is a groundbreaking, non-contact form of dental maintenance. Here's how it works: a controlled stream of air, water and very fine powder is projected onto the teeth and into those difficult-to-reach areas to dislodge plaque, discolouration and stains.
The combination of powder, water and air removes decay and bacteria that cause gum disease without the instrument ever touching your teeth! So not only will you enjoy a more comfortable clean, but it's also more efficient.
An Improved Hygiene Experience
We understand that many people experience dental anxiety. AIRFLOW will change the way you feel about dental hygiene. In the past, cold water and an ultrasonic scaler were used to remove build-up on the teeth. For many people, this conventional approach can cause sensitivity. With the new AIRFLOW technology, however, the water used is warmed to a very comfortable 40 degrees Celsius.
More comfortable
Completed quicker
Warm water spray reduces sensitivity
Remove biofilm and stains more efficiently
Reduced use of the ultrasonic cleaner
Reduces the speed of biofilm re-forming
Cleans teeth, gums and tongue
This first step involves painting a harmless coloured dye onto the teeth, which actually stains the bacteria in three different colours. Here's what the colours represent:
Pink staining is bacteria that has only been on the tooth surface for approximately 24 hours.
Dark blue staining is bacteria that has been on the tooth surface for more than 24 hours.
Light blue staining is acid-generating plaque, which is a high risk for cavities.
Once this dye is applied to the teeth, you can see where you may need to clean a bit more scrupulously. One of our highly trained dental hygienists can recommend cleaning aids to improve cleaning in those tough-to-reach areas.
The AIRFLOW machine will then be utilised to remove all the stained biofilm and softer mineralised deposits. Only then will the ultrasonic scaler be used to remove any stubborn deposits on the teeth, also called tartar or calculus.
Book an Appointment
Contact our Adelaide CBD dental practice today to schedule an appointment!

EMS AIRFLOW Adelaide CBD | 08 8231 9297